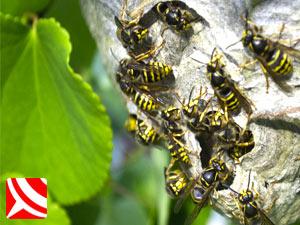 WaspKill UK was established 2007 by the present proprietor Simon Berenyi to provide a Bristol Pest Control Service operated by genuine experts in the control of Insect pests and Rodent pests. Most of the insects and rodents we treat are quite common but occasionally we get a call to something a little more interesting and we love anything new.
TV & Radio Appearances
The work we are proudest of is our film and radio work with the BBC, National Geographic, Channel 5 and also our educational work with local schools.
Expert Help and Advice
What people quickly learn about us, is our ability to succeed when others have failed. We get called every year to people who have been told it can't be done, only for us to find a perfect solution.
When it needs doing, and it needs doing right, WE ARE THE EXPERTS PEOPLE CALL, and we are very proud of this.
As you might appreciate, our services are in demand and we are often called to help when other pest control providers have failed or not had the technical and scientific expertise to eliminate an insect infestation quickly or effectively.
So if you have a problem that no one else can solve or you simply want a job well done - maybe you should call WaspKill UK Pest Control and let the experts take care of you.
What Service Areas Do We Cover?
We cover the cities of Bristol, Bath, Gloucester and North Somerset, including Weston-Super-Mare.
We also cover all of the areas in and around these locations for local assistance, especially where it is an emergency
What Do We Charge - The Minimum Cost?
Inspections are free where we carry out a treatment, or are just £78.00 (inc Vat) for both insect control and rodent control.
Where we differ from others, is in our willingness to advise you how to treat and manage pest issues yourself. This means that our inspections leave you well informed about what options are effective and safe no matter who carries them out!
Are Customers Charged Transaction Fees For Paying By Card?
NO! We don't pass card payment charges onto customers.
How Quickly Can You Get To Us?
Our response time can be minutes if we are available and near-by, however in most cases a same day visit is almost always possible. We open at 07.00 and finish in the evening between 18.00 and 22.00 depending on the time of year.
Do You Work Weekends?
Yes - we do work weekends, but we also charge extra for these visits, as these times are very popular.
How Can We Book An Appointment?
You can contact us via Email, Phone, Text or via social media. There are links to our most popular social media pages at the top of our web pages to make contacting us even easier and our contact details are are also listed below.
WaspKill UK: Contact Details
WaspKill UK
Cribbs Farm House
,
Redhill
,
Bristol
,
BS40 5RJ
Phone:
07427 626686